Cheesy Egg Casserole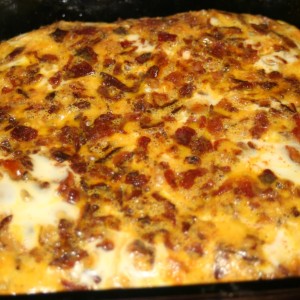 I made this yesterday while I was cooking supper so it wasn't hassle and was able to be chilled overnight.
Prep Time : 30 minutes
Cook Time : 8h 00 min
Instructions
Put Montery Jack cheese with flour and place in bottom of greased 8x8 pan (or if you double the recipe in 9x13). Top with cheddar cheese; sprinkle with bacon.
Beat eggs and milk.  Add black pepper to the milk and egg mixture; pour over all.
Cover and chill 8 hours or overnight. Remove from refrigerator 30 mins before baking. Bake, uncovered at 325 for 40-45 mins or until a knife inserted near the middle comes out clean.
Print



---