Chicken & Dumplings 1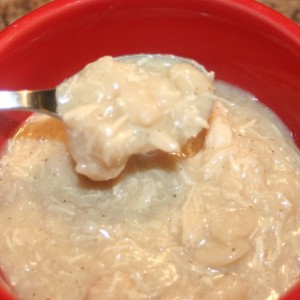 In these pics I cut the recipe back and used less chicken broth, chicken and biscuits.
Prep Time : 30 minutes
Cook Time : 60 minutes
Instructions
Cook the chicken by either boiling or to save time I put 4 -5 boneless chicken breast in a crock pot (they can be frozen). Then add 3 cans of chicken broth and if needed 2 -3 cups of water to completely cover the chicken. Add garlic salt and pepper. In a crock pot cook on low - medium for about 8 hours. If boiling just until the chicken is cooked - 45min - 1hr (if frozen)
Once the chicken is completely cooked removed the chicken from the crock pot and set aside. Take the broth that the chicken cooked in and pour into a 5QT dutch oven. I usually end up adding one more can of chicken broth and a another cup of water. If you boiled the chicken just remove the chicken and use the broth that's already in the pot.
To make the dumplings - (you can do this step while the chicken is cooking ) - take each biscuit and dip it in flour. Then roll it out flat to about 4 - 5 inches wide. Then slice it in half. Repeat with each biscuit.
Once you are finished with the biscuits. Heat up the chicken broth until it starts boiling. Once it starts to boil drop each dumpling in one at a time and continuously stir until you have added all the dumplings. This will help keep them from sticking together or burning. Once you have all the dumplings in the pot turn the heat to medium and keep stirring every couple minutes. They will need to cook for about 10 - 15 minutes. The flour on the dumplings will help thicken up the broth.
Once the dumplings are finished cooking turn the heat to low and keep stirring every couple minutes. Cut up the chicken and stir it into the dumplings. Let simmer on very low heat for about 5 minutes - stirring again every few minutes.
Finally add salt & pepper to taste!! I don't add salt and pepper to the dumpling mix until the end because the chicken broth can sometimes be really salty.
Print



---