Fried Cabbage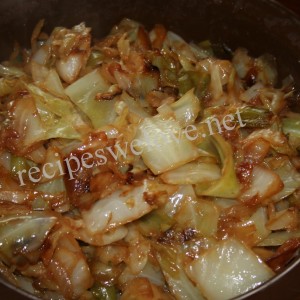 Prep Time : 15 minutes
Cook Time : 30 minutes
Ingredients
Instructions
Put a few tablespoons of butter in the bottom of a skillet. You could use some bacon grease instead if you want.
Chop up cabbage and put on top of butter and top with a few more tablespoons of butter. I added about 1/4  to 1/2 cup water and covered with a lid. I turned the skilled on medium high. I turned and stirred the cabbage often. At this point you want the steam/water to soften the cabbage a little. You can add additional water if needed. Stir/turn every few minutes. You can also add bacon or bacon crumbles in to cook with it. We were out of crumbles and all bacon was frozen in these pics so I didn't add any in the photos shown.
Once the cabbage starts to soften and few pieces start to turn golden or brownish sprinkle about 2 tablespoons on sugar on top and stir well. You can continue to cook, stirring often, until you get the softness you want.
We like to eat ours with a few dashes of hot sauce on it.
Print



---