Freezing Quesadillas — Freezer Cooking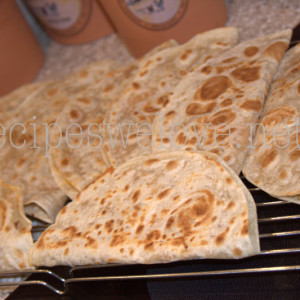 I Love having things in my freezer that I can pull out when the fridge is empty or we are pressed for time. Since I am a  stay at home mom (mostly, I do work a few hours a week for my husband), I usually cook during the week and use my freezer during the weekend. These Quesadillas are super fast and easy to make and turn out great once you warm them back up. These end up being our lunch a lot of Saturdays and I have extra on hand if I have company stop by which I tend to have a lot of. I serve with sour cream and salsa.
Prep Time : 15 minutes
Cook Time : 20 minutes
Instructions
All you need is tortillas, cheese, meat, and beans if you want.
I used leftover Salsa Chicken in these but I have also used leftover Mexican Roast. When we make these for my monthly cooking night I cook fresh meat but this is a great way to use up extra leftovers.  Just make sure you meat is shredded or diced up.
Place the tortilla in a pan then place a layer of cheese on one half,  then a little of your meat and a few beans like black beans, if you have them. Then fold over the other half of the tortilla. I have found that if you do a  whole tortilla then cover with another one it does not warm up as well. TIP: don't over fill you will have a mess and a soggy quesadilla, fight the urge and put thin layers.  Once the bottom begins to turn a golden brown and the cheese begins to melt flip the quesadilla over and cook on the other side for a minute or so.
I lay my on a cooling rack until they are completely cooled then place in a freezer safe container or freezer bag.
To Warm:
I place mine in the oven for about 15-20 minutes on 350 degrees,  until the cheese has melted and the tortilla will crisp up this way. One of my friends puts hers in the microwave for a minute and likes them but they will not be crispy this way. But she takes them in her lunch to work so it is a fast go to, and helps her to stay away from the fast food window.
Print



---