Bourbon Glaze Sliders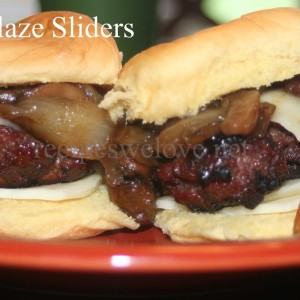 Tastefully Simple Bayou Bourbon Glaze
Prep Time : 15 minutes
Cook Time : 30 minutes
Ingredients
Instructions
I took a pound of ground beef and put it in a bowl and poured about a 1/3 to 1/2 jar of bayou bourbon glaze on it. I mixed it together with my hands, covered the bowl and let it sit for a few hours to marinate.
Once it was time to start cooking dinner I shaped them into mini hamburger patties and grilled the patties. I have used the george foreman for them and I have also used the regular grill.
In the picture below I had a package of frozen mushrooms and onions that I sauteed in a skillet with some olive oil and a tiny bit of brown sugar. I have also made caramelized onions using just an onion for these burgers too. Here is a recipe for caramelized onions.
Once everything was done we topped the burgers with provolone cheese and the sauteed onions and mushrooms. I also made homemade fries that you bake instead of frying. Here is the recipe, oven fries.
Print



---