Apple Pie Filling — water bath canning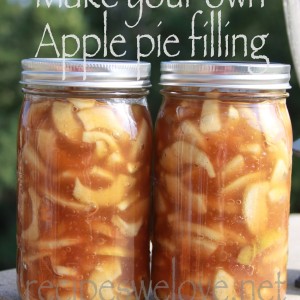 Apple Pie is ready to go all I need is a crust, great for get togethers and potlucks, or to take to a new mom etc. I won't lie this is more time consuming than most of my canning recipes but it is wroth it. These are also delicious to just "fry" in a pan with a little butter.
This recipe makes 3-4 quarts, I always double it and it works well. A batch any bigger would be hard to handle.
Prep Time : 15 minutes
Cook Time : 35 minutes
Yield :

4
Instructions
In a Large pot of boiling water blanch apples in small batches for 1 minute. Remove with apples and keep warm in a covered dish or pan.
In a Large pan combine sugar, clearjel, cinnamon, nutmeg, water and apple juice. bring to a boil over medium heat. Stir CONSTANTLY and cook until the mixture begins to bubble and thicken don't forget to STIR CONSTANTLY. Add lemon juice and and boil for 1 minute while STIRRING CONSTANTLY.
Remove from heat and add the warm apples to the hot mixture and stir well.
Ladle hot pie filling into hot jars, leaving 1 inch headspace. Remove air bubbles and adjust headspace, clean rims and place lids on the jars.
Process in a water bath for 25 minutes of pints and 35 minutes for quarts.
Print



---