Jalapeno Apple Coleslaw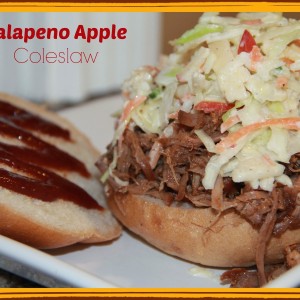 We (Amber and her family) went to Blowing Rock, North Carolina for a few days over Christmas break where we stumbled upon a wonderful little restaurant. We had a fried chicken sandwich that had a jalapeno apple coleslaw.  I had NEVER even heard of it until that night. The sandwich was AMAZING!! The coleslaw has stuck in our minds and my husband and I kept wondering if we could make something like it at home. So today I decided to give it a try, I was a bit nervous since I had never made coleslaw before. I am happy to report that it turned out fantastic on the first try, which I must admit is a rarity!!!
Prep Time : 15 minutes
Cook Time : 60 minutes
Instructions
Pour classic coleslaw in a large bowl. I would love to make this without buying the bagged stuff but for a first attempt I went with what was easy.
I washed the apples and left the skin on them to shred them. I have a handy pampered chef thing that shreds and slices at the same time so I used that. I then cut the jalapenos up in to tiny pieces and added them to the bowl. Next add mayo, sugar, apple cider vinegar, salt, pepper and garlic powder. Mix together. This is how mine looked.
Pour this over the classic coleslaw and mix well. At first it didn't look like it was enough sauce but once I started mixing it and then let it sit in the refrigerator for a while it was perfect. It has just enough sweet, tangy and spicy flavor! It is really a great flavor combination.
I covered the bowl and put in the refrigerator for a few hours. Once I was ready to use it I stirred it all together and it was delish!!! We had it on top of slow cooker pulled pork sandwiches but it would also be good as a side dish or on other sandwiches.
Print



---