Cooking a Steak in the Oven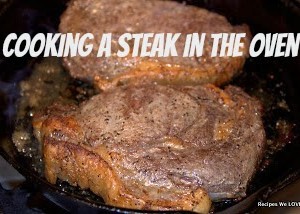 When it is cold out side or your don't feel like lighting the grill you CAN cook a great steak in the oven. I use my iron skillet for this.
Prep Time : 5 minutes
Cook Time : 30 minutes
Instructions
Get your pan good and hot with a little bit of butter, then sear the seasoned steaks on both sides for about 2 minutes per side. Then place the in a HOT oven on Broil for 10 minutes. At this point I check and see if it is done enough for you. I also place a little butter on top. If it is cooked the way you like let it sit for 5-10 minutes before cutting and serving.
Print



---