Crunchy Baked Cheddar Chicken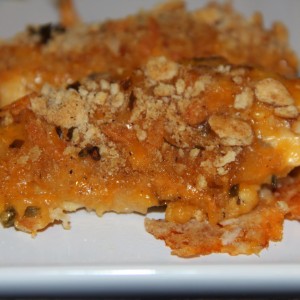 This was an easy dish and turned out really good. I will definitely be making this again!! It was not a beautiful chicken dish but it tasted great!
Prep Time : 15 minutes
Cook Time : 35 minutes
Instructions
I dipped the chicken tenders in some milk.
Then I patted/pressed on on some shredded cheese. The cheese would have been easier if it was smaller pieces but it still worked.
I put some house seasoning in with the crushed ritz and then covered the chicken with them. Don't panic if some of it is falling off. Mine was but once I placed it in the 9x13 baking dish I pressed what fell off back on. Then I sprinkled some chives on top.
I covered the dish with foil and baked at 400 for 35 minutes. Then I removed the foil and baked another 10-15 minutes. Watch it because you are just wanting to back until it is crispy on the edges and golden brown.
Print



---