Adding Veggies to Your Breakfast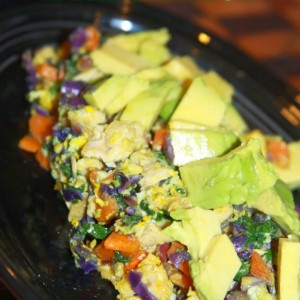 I will will tell you the truth, I am just not a breakfast person and would prefer dinner leftovers over breakfast food anytime. But I feel so much better and eat less during the day if I have a good breakfast without carbs. This is one of my favorites.
Prep Time : 10 minutes
Cook Time : 15 minutes
Ingredients
Instructions
I sautee what ever veggies I have on hand, pictured is green peppers, spinach, a little onion, carrots, and red cabbage. Once the the veggies are just starting to become tender then if I have any leftover chicken, steak etc I dice it up and throw it in the pot just until warm ( pictured is chicken).  Then I Scrabble with one egg the top with diced avocado and tomatoes if I have it.
Print



---