Chicken Poppyseed Casserole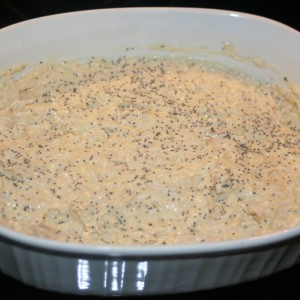 Prep Time : 15 minutes
Cook Time : 25 minutes
Instructions
Boil chicken and shred. Mix chicken, creams and sour cream in a casserole dish. (I added poppyseeds to the chicken mixture this time)
Crunch up crackers and sprinkle on top. sprinkle with poppyseeds and pour melted butter over top. (I forgot to take pictures once I put the crackers and butter on there or of the finished product. Oops!)
Bake for 20-25 minutes on 350. it goes great with green beans or mashed potatoes. you can put poppyseeds in the mixture too if you want.
I have cut back on the amount of sour cream or left out one of the cream soups and it still tastes good. I ALWAYS use reduced fat sour cream on any recipe.
Don't forget to follow us on Facebook!!
Print



---