Honey Ricotta Turnovers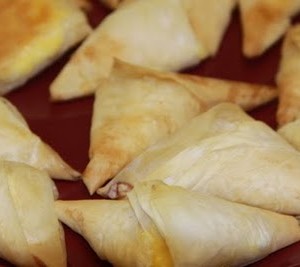 Super easy and yummy not too sweet.
Prep Time : 15 minutes
Cook Time : 35 minutes
Yield :

4 servings
Instructions
Preheat oven to 350 degrees. In a small bowl, combine ricotta, sugar, vanilla, zest (if using), egg, and pinch of salt. Mix well to combine. In a microwave-safe bowl, microwave butter and honey on high until butter melts, 30 to 45 seconds. Stir well to combine.
Lay 1 sheet phyllo on a work surface (cover other sheets with a lightly damp towel). Using a pastry brush, gently brush with honey mixture. Lay 2 more sheets phyllo on top, brushing each with honey mixture. Cut crosswise into 4 rectangles. Place 2 tablespoons ricotta mixture at one end of each rectangle; gently fold phyllo around ricotta like a flag (see helpful hint below). Transfer to a parchment-lined baking sheet. Repeat with remaining 3 sheets phyllo. Bake until golden brown and shiny, 30 to 35 minutes. Serve warm, drizzled with more honey.
Print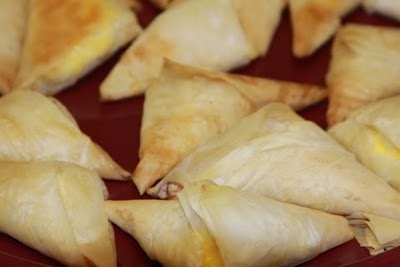 ---