Million Dollar Spaghetti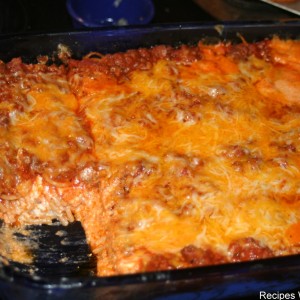 I have seen a pin for Million Dollar Spaghetti several times on Pinterest so I decided to give it a try. The pin I had went to this blog Being Grown Up.  This was a very rich spaghetti but a nice change to normal spaghetti. My husband and mother in law both really enjoyed it as well. I did change mine up a tiny bit.
Prep Time : 15 minutes
Cook Time : 15 minutes
Instructions
Combine cottage cheese, sour cream and cream cheese.
Brown hamburger meat with diced onion and house seasoning. While browning the meat boil the spaghetti noodles. Once the meat is browned (drain if needed) add the spaghetti sauce and warm.Put some slices of the butter along the bottom of a 13x9 pan. Put half the spaghetti noodles (once drained) on top of the pieces of butter. Put cream cheese mixture on top of the noodles and spread evenly. Top with remainder of the noodles and put some butter slices on top. Spread meat mixture over the top.
Bake at 350 for about 20 minutes and then top with the bag of shredded cheese and put back in the oven for 10-15 minutes until cheese is melted.
Print



---