Elephant Ear Cookies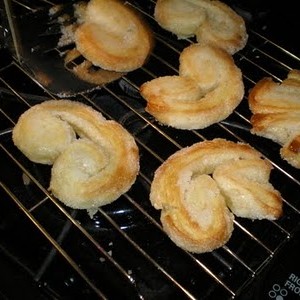 GREAT!!! they are great and so easy.
This recipe was found at http://www.goodhousekeeping.com/recipefinder/elephant-ears-palmiers-recipe-ghk1210?click=recipe_sr.
Prep Time : 5 minutes
Cook Time : 15 minutes
Instructions
Preheat oven to 450 degrees F. Line 2 large cookie sheets with parchment paper.
In small bowl, combine sugar and salt; pour 1 cup mixture onto work surface. Unfold 1 sheet puff pastry onto sugar mixture; pour another 1/2 cup mixture on top, spreading it evenly on pastry. With rolling pin, lightly roll dough into 13-inch square, pressing sugar into pastry on top and bottom. Fold two sides of square toward center so edges are halfway to middle. Fold again so the two folds meet exactly at middle of dough. Then fold one half over other half as though closing a book. (You will have 6 layers.) Cut dough crosswise into 3/8-inch-thick slices; place slices, cut side up, 1 inch apart on prepared cookie sheets.
Bake cookies 6 minutes or until caramelized and brown on bottom. With metal spatula, turn cookies over and bake 3 to 5 minutes longer, until caramelized on other side. Transfer cookies to wire rack to cool completely.
Place second sheet of pastry on same sugared work surface; sprinkle with remaining 1/2 cup sugar mixture. Continue as in steps 2 and 3, reusing cooled cookie sheets as necessary. (There will be quite a bit of sugar left over.)
Store cookies in airtight container, with waxed paper between layers, at room temperature up to overnight.
Print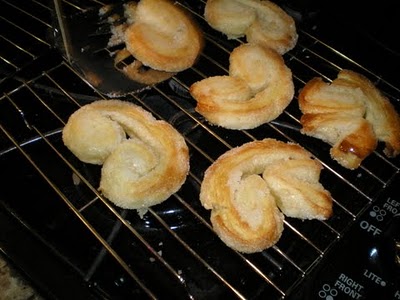 ---