Pepperoni bites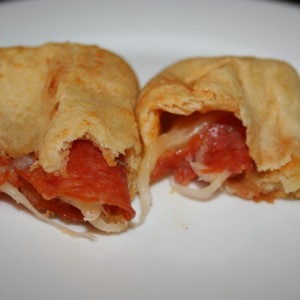 This is one of my favorite appetizers!
Instructions
Preheat your oven to the temp on the crescent roll pkg. Usually about 375.
Roll out the crescent rolls and cut each triangle into equal halves. (you don't have to do this but I usually do to make more)
Take 2 -3 slices of pepperoni and place it in the center of each triangle
Sprinkle a small amt of mozzarella on top of the pepperoni.
Fold/roll up the crescent roll over the cheese and pepperoni. It does not have to be neat. I just try to make sure the cheese is not hanging out.
Place rolls on a cookie sheet.
Melt some butter and stir in garlic salt.
Baste the pepperoni rolls with the butter.
Bake until golden brown.
Dip in your favorite pizza or spaghetti sauce. We always use Ragu sauteed onion and garlic.
Print



---