Pineapple Casserole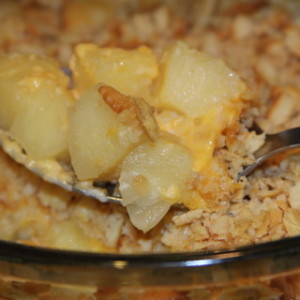 My pastor's wife made this the other week and it is so good!
Prep Time : 15 minutes
Cook Time : 30 minutes
Instructions
Drain pineapple reserving 6 tablespoons juice.
Combine sugar and flour in bowl; stir in reserved juice. Add cheese and pineapple chunks; mix well.
Spoon into greased baking dish. sprinkle mixture of butter and cornflakes over top.
Bake 20-30 minutes at 350.
Note from Ann Kelly: I use ritz crackers in mine instead of corn flakes (I always have crackers on hand) and don't add the flour or sugar anymore. It tastes the same and saves a few calories 🙂
We would love for you to follow us on Facebook!
Print



---