Slow Cooker Chicken Taco Soup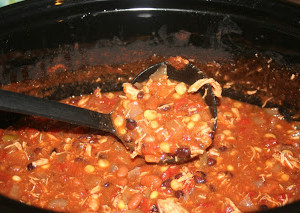 This recipe has been a hit everytime I make it. It is so good. *TIP* If you use frozen chicken breast, you can bake them ahead of time and shred, then add it to the mixture after 5 hours; or you can simply use a few cans of canned chicken if you don't have time to fool with the chicken. I have also turned the crockpot on high and done this same recipe in about 4 hours. Most everything is already cooked...it just needs to get hot and mix together really good. ENJOY!!
Prep Time : 30 minutes
Cook Time : 7h 00 min
Instructions
Put the onion, chili beans, black beans, corn, tomato sauce and diced tomatoes in a slow cooker. Add taco seasoning, and stir. Put chicken on top of the mixture, push the chicken down until just covered by the other ingredients. Set slow cooker for low for 5 hours.
Two hours before finished remove chicken breasts from the soup and shred. Stir the shredded chicken back into the soup, and continue cooking for 2 hours. Serve topped with shredded Cheddar cheese, a d little sour cream, and crushed tortilla chips.
Print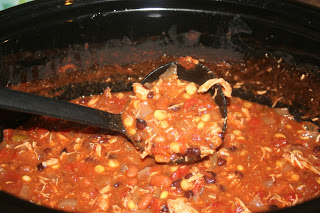 ---