Rustic Italian Bread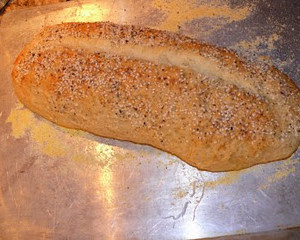 Prep Time : 20 minutes
Cook Time : 35 minutes
Instructions
Lightly spoon flour into measuring cup. In a large bowl, combine flour, sugar, salt, yeast, and mix well. Add warm water (not hot or the yeast will not work) and oil, mix well, (this is a dry dough) Turn dough out onto lightly floured surface. Knead dough until smooth about 4 minutes.
Place dough in lightly greased bowl, cover with plastic wrap and a towel. Let rise in warm place for 30-40 mins. Sprinkle ungreased cookie sheet with cornmeal.
Punch down dough. Cover down with inverted bowl and allow to rest on counter for 15 minutes. Shape dough into baguette shaped loaf about 12 inches long. Place dough on cornmeal coated cookie sheet. Cover let rise in warm place for 35-40 mins. or until doubled in size.
Heat oven to 375 degrees, with a sharp knife, cute a 1 inch deep slash in top of loaf. Brush loaf with beaten egg white. (I PUT A MIXTURE OF SESAME SEEDS, POPPY SEEDS, SEA SALT, BLACK PEPPER ON THE TOP TOO) Bake at 375 for 24-35 minutes or until the loaf sounds hollow when lightly tapped.
Print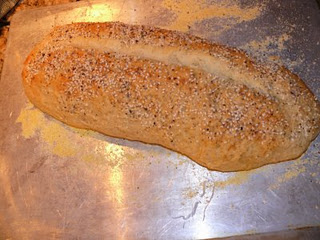 ---