Mexican Pizza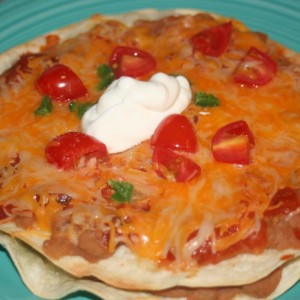 Instructions
Heat oven to 400. Line baking sheet with foil. Put a little olive oil on each side of tortilla and cook for about 4 minutes on each side. Just enough to make it crispy. Be sure not to burn them.
While the tortillas are baking warm the beans and add in water, seasonings and diced onion.
Dice up the jalapeno, tomato and green onions.
Once done remove the tortillas from the oven, spread beans over half of the tortillas and top with a tiny bit of salsa. Put another tortilla on top of the salsa. Then spread some salsa on top (like you would sauce on a pizza).
Sprinkle with cheese, tomato, green onions and jalapenos. Put this back in the oven just to warm and allow the cheese to melt.
Take out and put a little sour cream in the center. Enjoy!!
Print



---