Taco Salad Pizza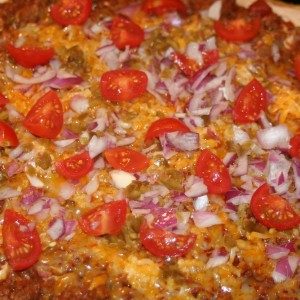 The original recipe was submitted by Sarah but I made some changes and they are below.
I didn't have any lettuce the night I made this but I would have put lettuce on it.
Prep Time : 15 minutes
Cook Time : 20 minutes
Instructions
Roll the crescent rolls out on a pizza pan and bake about 15 minutes at 375. I let my kids help roll ours out!
While the crescent roll is cooking brown your meat. Add desired amount of taco seasoning and once the meat is browned stir in salsa or rotel and warm together.
I added some taco seasoning to the sour cream and mixed it together. Then spread the sour cream mixture over the crescent roll.
Scoop meat mixture over sour cream.
Top with lettuce (if using), shredded cheese, onions, tomatoes and I added tiny pieces of jalapeno to ours. You could add any toppings you want. Enjoy!
We would love for you to follow us on Facebook!
Special thanks to our fellow bloggers who linked up this recipe: Simply Sweet Home
Print



---