Chicken Cheese Enchiladas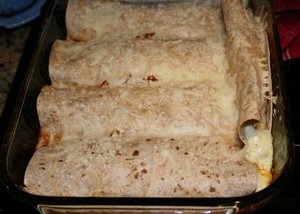 Prep Time : 15 minutes
Cook Time : 25 minutes
Instructions
Cook chicken dice and add oil and water with taco seasoning keep on heat till water is gone sit aside
Mix 2 1/2 c of cheese, ricotta, green chilies, egg, (I sometimes add a little spinach, but don't tell John).
Pour 1/2 jar of salsa in the bottom of a 9x11 baking dish the put a layer of cheese mix and a layer of chicken on tortilla and roll and place in the baking dish on top of salsa.
Once all are in pan put the rest of the cheese on the top and bake at 350 degrees for 25 mins.
I serve on a bed of spinach with salsa and sour cream on top with chips and salsa. YUMMY
Print



---