Beef Enchiladas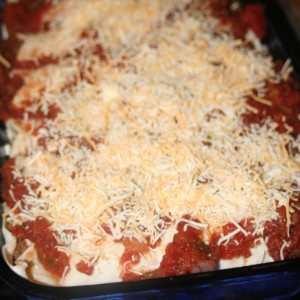 This is a recipe that was originally one of Ann Kelly's  (Ann Kelly's recipe HERE) that a friend switched from chicken to beef and changed the cheese from ricotta to cottage cheese. These are SO GOOD!!
Prep Time : 15 minutes
Cook Time : 30 minutes
Instructions
Mix the cottage cheese, green chiles and shredded cheese together.
Cook the ground beef with some water and desired amount of taco seasoning.
Once both are done scoop some into tortilla.
Fold up one end and push all the ingredients towards the part you have folded up. Then roll the tortilla.
Pour half the salsa in the bottom of the 9x11 baking pan and then place the rolled tortillas on top. Pour more salsa on top.
Top with some shredded cheese. Bake at 350 for 25 minutes.
Print



---