Smoky S'mores Bars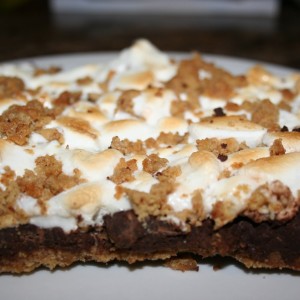 Prep Time : 30 minutes
Cook Time : 2h 15 min
Instructions
Heat oven to 350. Line 9x13 with foil and allow several inches of overhang on two opposite sides. This will allow you to lift the bars out of the pan. Spray foil with non stick spray or rub with butter.
In food processor, grind the graham crackers into a fine meal (you need 2 cups). In a large bowl, combine your crumbs, sugar, sea salt, and melted butter. It will feel like wet sand. Set aside 1/2 cup of the crumb mixture for the topping. Press the remaining crumb mixture into the bottom the pan. Bake crust golden brown, about 12 minutes. Remove the crust from the oven and allow it to cool.
Melt your milk chocolate in a saucepan over low heat, stirring continuously until fully melted. You have to keep the heat low.
Preheat the broiler.
Pour the melted chocolate over the cooled crust and spread evenly.  Then sprinkle your marshmallows over the chocolate, pressing them lightly, and then sprinkling the reserved crumb mixture over and in between the marshmallows so that you cannot see the chocolate through the marshmallows. Broil the bars until the marshmallows are golden brown, this is really fast and takes only 30-60 seconds.
Refrigerate the bars until the chocolate is hard, 2 hours or so. Grab the ends of the foil liner and lift the bars out of the pan in 1 piece. Cut in to slices and enjoy.
Don't forget to follow us on Facebook!
Print



---