Garden Fresh Tomato Sauce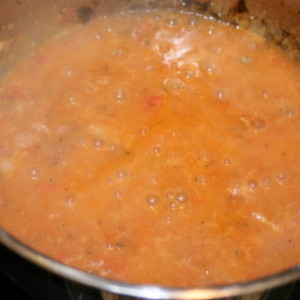 So most nights I have no idea what we are having for dinner till I open the fridge. I stock up on basics and often have a new recipe to try but usually I am trying to beat the clock and a hungry little boy. While this is not the best picture this is our dinner a few nights ago, I am sure you can tell whose plate is who's.
I got this out of the garden that day so I thought I would put a few Bacon wrapped Jalapenos in the oven find them here and had some chicken laid out and thought I would try oven fried breaded chicken with some gluten free flour (which did not work out as planned. Chex cereal crumbs work much better). I had fresh garden potatoes as well so I made butter lemon new potatoes, and broccoli. While all of that was cooking I thought the chicken might need some sauce if the breading did not work out as planned.
Prep Time : 15 minutes
Cook Time : 30 minutes
Ingredients
Instructions
So in a pot a threw a couple hand fulls of cherry tomatoes, a couple pieces or parts of pieces of bacon chopped up. Along with some green diced pepper, chopped onion, and lots of chopped garlic, parsley, salt and pepper. I may have put a little lemon juice in there too, it sounds right but I am not for sure.
Once everything started cooking and tomatoes burst open I used my submersion blender to blend it all up. And cook for about 30 minutes. It was nice and thick made a great sauce for the chicken and  would be great with some pasta in it etc. YUMMY and all fresh out of the garden.
Print



---