Bacon Wrapped Asparagus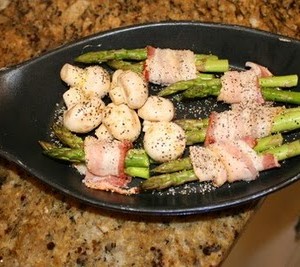 Prep Time : 10 minutes
Cook Time : 15 minutes
Instructions
Take 2-3 pieces of fresh asparagus and wrap with a piece of bacon, or you can use a half of piece of bacon per piece of asparagus.
Put a little olive oil on the flower end of the aspargus so they don't try out.
Add salt, pepper, and garlic to taste.
Bake at 375 for about 10 -15 mins till bacon is done .
Print



---