Breakfast Casserole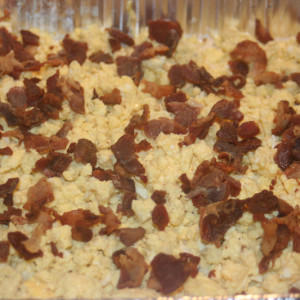 I love breakfast casserole rarely make it since my hubby and I are the only ones that can have eggs in our house so when I was asked to come to a Breakfast at Tiffany's baby shower (it was a brunch and the ladies wore black dresses and pearls!) I thought I would make this to take.
Prep Time : 15 minutes
Cook Time : 45 minutes
Instructions
I first had this bacon at Ann Kelly's and picked it up at Trader Joe's. It is perfect to use for this recipe and my kids loved eating what I didn't use.
I really really like this gravy. It is only a dollar a package and I can only find it at one store locally. I am sure it is not healthy but tastes great! It is easy to make too.
Spread the crescent rolls across the bottom of a pan that has been sprayed non stick cooking spray. You can break the crescent rolls at this point if you want. It is easier to judge the timing if you bake the crescent rolls now, if not you have to keep checking it to make sure they aren't soggy.
Spread the gravy on top and top with scrambled eggs.
Then top with bacon crumbles. Did I mention bacon is one of my favorite foods!!
Sprinkle the top with shredded cheese. I don't measure, I just sprinkle until it looks like it will be enough.
I cooked it on 350 for about 30-45 minutes (if you have already baked the crescent rolls then you will only need to bake until everything is warmed and cheese is melted). You just need to make sure it is all warm and that the crescent roll is cooked.
We would love for you to follow us on Facebook!
This post is linked up at: Happy Hour Projects, Someday Crafts
Print



---