Watermelon Pops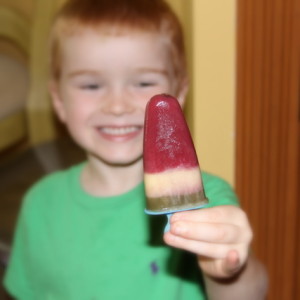 I found this recipe from Family Fun  and in stead of using sorbet we used "Naked" brand juice, 100% fruit and veggie juice with no added anything.  I have already been making pops with this yummy juice so we gave these a try. Mine were not as "cute" but they were a hit with my son and a friends kiddos too.
Prep Time : 10 minutes
Cook Time : 20 minutes
Ingredients
Instructions
I started with the Red "naked" juice and added a few chocolate chips, but they were not really noticeable so did not add to second batch.
Put in freezer for about 15-20 mins. then added white (I put too much white), then froze for about 15-20 then added the green and the sticks.
Print



---