Tilapia Bundles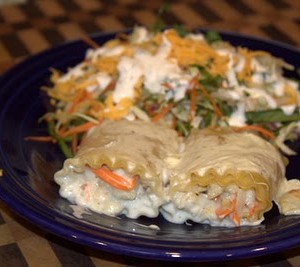 Prep Time : 15 minutes
Cook Time : 30 minutes
Instructions
Preheat oven to 350 and Cook Lasagna noodles according to package. drain pasta  sit aside.
Place in a large  pan  oil,and tilapia. Cover and cook for 2-3 mins. Turn and cook other side for 2-3, once it is done, crumble up and sit aside.
To the pan (once the fish has been taken out) add cream cheese, milk, dill, and salt, make sure to break up the cream cheese. Place on low heat and whisk until all has melted. Keep 1/2 cup of the mixture.
Stir carrots and fish into pan with the cheese mixture. Lay noodles out. Place 2 TBS of the mixture on the bottom edge of each noodle Carefully roll each noodle  up into a bundle and  place in  greased baking dish.
Spoon the 1/2 cup cheese mixture over the bundles and bake for 20 mins.
If I do this again I will cut about 1/3 of the noodles off before bundling. I was going to serve this with steamed broccoli but the broccoli I had did not look too good so I made a shredded salad of iceberg, spinach, carrots, and cabbage. YUMMY DINNER
Print



---