Wedge Salad and Dressing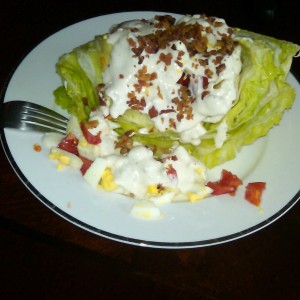 I am a huge fan of wedge salads but have never made one at home. I found a recipe on pinterest that looked great and changed it just a tiny bit and it was delicious!!! I will say that the dressing recipe says to have it sit for 1-4 days and at 2 days I was not impressed but by yesterday (day 3 it was really good).
Instructions
DRESSING
Mix together mayo and sour cream. Add the buttermilk, Durkee sauce, and seasoned salt. Mix well.
Season to taste with salt and pepper and stir again. Fold in blue cheese.
Store in a container with a lid for 2-4 days.
SALAD
Pull core out of lettuce and then slice into quarters. Remove any hard portions of lettuce that may be in the center of each quarter.
Place on plate and then pour dressing over the top. Sprinkle with bacon crumbles, egg, tomato and more blue cheese.
Don't forget to follow us on Facebook!
Print



---