Cheeseburger Meatloaf and Sauce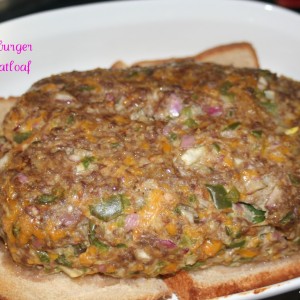 This is a slight variation to a Paula Deen recipe that I found in her cookbook. I have also posted a linked below to the one that is listed on the internet for her but it is different than the cookbook and what I did as well.
I served it with cottage fried potatoes, lima beans and corn. The leftovers heated up okay too!
Prep Time : 15 minutes
Cook Time : 60 minutes
Instructions
Preheat oven to 325. Mix ingredients in a bowl, except bread slices. Shape in to a loaf. Line about a 1 inch deep jelly roll dish with bread and place loaf on top.
Bake for 45-60 minutes. The bread absorbs the grease so you will throw it away after baking the loaf.
Heat soup and milk in a skillet. Add cheese and mix. Pour over meatloaf or serve in a bowl at the table.
Our Dinner that night. This is what I found online which is a tiny bit different than the recipe in her book. http://www.foodnetwork.com/recipes/paula-deen/cheeseburger-meatloaf-and-sauce-recipe/index.html
This post is linked up at: Kellys Korner Blog
Print



---