Green Beans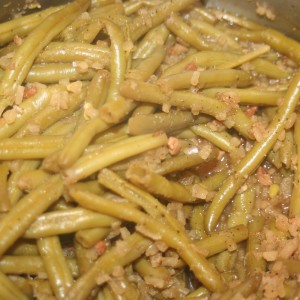 I am sure most of you all know how to make green beans but I know we have some people that are knew to cooking. I know when I first started cooking I would have just opened a can and warmed them (bland!).
Instructions
I usually use frozen and add a little water to the bottom of my pot. I don't measure the spices but start off with less and then add to taste.
When I use frozen I start them lower and cook with a lid for a little bit (when in a hurry I have put them in there and turned them up to high to hurry them along). After they have started to soften and cook down some I take the lid up and turn them up to cook off most of the water.
Simmer until you serve but make sure you don't cook all the liquid off.
Ways Some Others make theirs:
Suellen -  I fry bacon and put it and the drippings in a big pot of green beans and onions. I love to add sliced carrots too. That's something that my grandma did and they are so good.
Wendy - balsamic vinegar is good too (instead of worchestershire).
Peggy - I put a piece of onion in them a ham hock and cook very low almost dry and cook all day.
Print



---