Rainbow Cake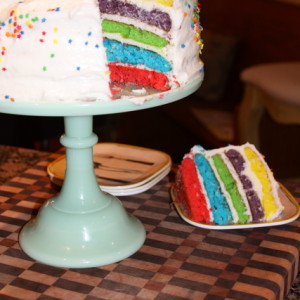 I have seen Rainbow cakes all over the internet and in magazines so I had to give it a try. Next time I would use my own cake recipe but this time I just used a box mix to see how it went.
Ingredients
Instructions
I just used a cake mix since this was our first try at this and we just wanted to see how it worked out. I used 2 cake mixes and 10 inch cake pans. Smaller pans would allow you to have more layers and more colors.
Use Gel food coloring and mix the cake batter to the desired colors. After greasing and flouring your cake pan put just enough batter to cover the bottom. Mine took about 1 1/2 cups. Bake for about 12 mins till a toothpick come out clean. Repeat till all your layers are done.
I had to level up a couple of my layers with a knife then layer them up with icing in between each layer I used a homemade cream cheese icing.
Put a crumb coat on and put in the fridge for a few minutes then put another good coat of icing on.
My little guy wanted to add sprinkles but that is not something you have to do.
We would love for you to follow us on FACEBOOK!
Print



---