Twice Baked Potatoes (make and freeze)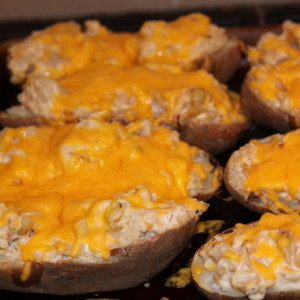 Prep Time : 15 minutes
Cook Time : 30 minutes
Instructions
I make several of these and pop them in the freezer for when I need a quick side. I can pull them out in the morning and thaw in the fridge or on the counter for an hour or so. Put them in the oven at 350 for about 30 minutes.
While the potatoes are in the oven I slowly cook a couple diced onions and several cloves of diced garlic with a little butter.
Once they are good and cooked, add them to a bowl with one package of cream cheese, about 1 1/2 cups of shredded cheddar, salt, pepper, garlic and mix well.
Once the potatoes are done I cut in half and scoop out the insides with a small ice cream scoop.
Add insides of the potatoes to the cheese and onion mixture and mix well.
Then I scoop the insides back into the potato hull with my little ice cream scoop.
Put a bit more cheese on top and just bake till the cheese melts.
Once cooled they go to the freezer.
Print



---