Amish White Bread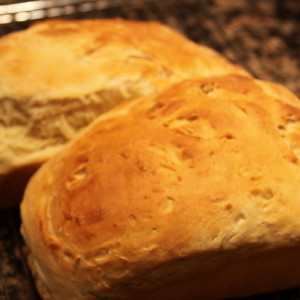 A friend gave me this recipe but it is from she only uses 1/4 cup sugar and I used 1/2 cup of sugar and they were both good. This is a good bread that does not take hours to make.
Instructions
In a large bowl, dissolve the sugar in warm water, and then stir in yeast. Let sit for about 10 minutes.
Add salt and oil into the yeast. Then mix in flour one cup at a time. Knead dough on a lightly floured surface until smooth. Place in a well oiled bowl, and turn dough to coat. Cover with a damp cloth. Allow to rise until doubled in bulk, about 1 hour.
Punch dough down. Knead for 3 minutes, and divide in half. Shape into loaves, and place into two greased loaf pans. Allow to rise for 30 minutes.
Bake at 350 degrees F for 30 minutes.
Print



---