English Muffins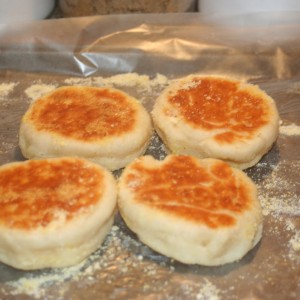 I found this recipe on pinterest - Here.
Instructions
Combine yeast, sugar and 1/2 cup warm water in a bowl and mix well. Let sit for 5 minutes (until it is foamy)
In another bowl combine 1.5 cups flour and salt. Mix well. In another bowl combine milk and butter. Microwave for 30 seconds. Stir. Then microwave for another 30 seconds. Stir until butter is dissolved in milk.
Pour yeast mixutre and milk in with flour/salt. Stir until is looks pasty. Adding 1/4 cup of flour at a time, add enough until it is forms a ball that pulls away from the sides of the bowl. It took about 3/4 cup and will still be slightly sticky.
Sprinkle a little flour on a clean surface and coat your hands in flour. Dump the ball of dough out of the bowl and knead for about 5 minutes. Don't add too much flour of the muffins may become tough.
Shape the dough into a ball and place in a bowl that has been sprayed with non stick cooking spray. Cover with plastic wrap (spray the top of the plastic wrap with non stick spray as well). Let dough rise (double) for about 45 minutes.
Punch the dough down and then shape into a ball again. Cover and let rise another 45-60 minutes.
Once the dough has doubled dump onto a floured surface. Press the dough down into a circle that is about 3/4inch thick. Using a cookie cutter or biscuit cutter (dip in flour first) cut out the muffins as close as you can so that you do not have to keep rolling out the dough.
Sprinkle some Jiffy Mix or cornmeal on a piece of wax paper.
Place the dough pieces on to the cornmeal. I flipped mine so that each side had a little cornmeal. I don't think you have to do this but I wasn't sure so I did it.
Let dough rise again for about 45 minutes.
Heat a skillet over medium low heat and coat with non stick cooking spray. Place the muffins (in batches) and let cook about 6-7 minutes on each side. You want them to be golden brown on each side so cook time will vary depending on stove. The muffins will sound hollow when you tap on the top when they are cooked all the way through.
Remove from skillet and let cool.
Print



---