A Little Healthier Sweet Potato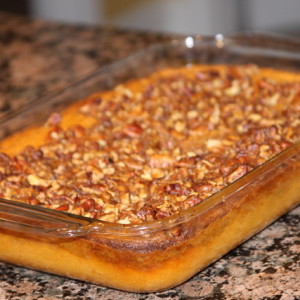 We really enjoy a sweet potato casserole and my husband would eat it very often but In the past the dish has included LOTS of BUTTER, SUGAR, BROWN SUGAR, and Cream cheese or sour cream. For it to be a regular on our menu it needed to be lightened up a bit but still be a yummy sweet dish.
Prep Time : 15 minutes
Cook Time : 25 minutes
Instructions
Once the sweet potatoes are baked till they are tender ( they will take FAR less time than white potatoes) scoop the potato from the skin or peel what ever works best for you. I like to do this as soon as I can handle them so the yogurt melts well into the mixture. Then add 1 tsp salt, 1 TBS cinnamon, 1/3-1/2 cup honey, and 1 cup plain Greek yogurt. I mix for several minutes till it is REALLY smooth then I add the 2 eggs and mix another couple minutes
While the potatoes are mixing I add the all the topping ingredients stick it in the microwave for about 25 seconds and then stir it up well.
Once the potatoes are mixed smooth pour them into a grease baking dish and top with the topping.
You will notice there is not a LOT Of topping we would prefer a lot more of the topping but that is the worst part for our health so we try to limit it.
Then put it in the fridge until you need it or bake at 350 for about 25 mins.
Print



---