Asparagus Stuffed Mushrooms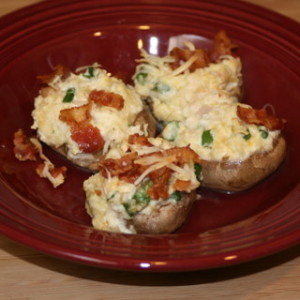 This is really not a recipes but an example of just using what I had on hand and some of my favorite things. That is the FUN part about cooking, there really are no rules. Do what you love, and ENJOY!
I made these a few weeks ago just using up items I had found and wanted to find a way to use them up. These were pretty good, but not as good as my Crab Stuffed Mushrooms..but pretty good.
The blue bag is asparagus (frozen from the spring). This cheese spread I found Whole Foods. This cheese is from a local farm and the favor is garlic paprika jack and it was very strong, good but a little goes a long way.
Prep Time : 15 minutes
Cook Time : 40 minutes
Instructions
So I mixed everything up other than the mushrooms and bacon.
Then stuffed the mushrooms with few pieces of bacon on top, and baked about 40 minutes at 350 degrees.
Don't forget to follow us on Facebook!
Special thanks to our fellow bloggers we linked up with:
Print



---