Oatmeal Chocolate Chip and almond Cookies – Gluten free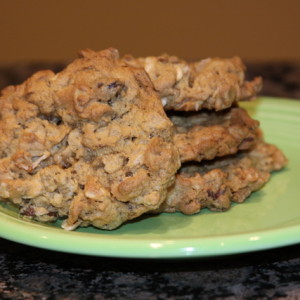 These cookies are really yummy  I need to work on reducing the sugar in these but this recipe makes about 40 cookies so it makes a lot.
Prep Time : 10 minutes
Cook Time : 12 minutes
Instructions
Preheat oven to 350 degrees
In a large bowl beat sugar, brown sugar, and butter till creamy.
Add eggs, vanilla, peanut butter, and baking soda and mix well.
Then mix in oats, chocolate chips and nuts.
I use a small ice cream scoop to make my founds of dough so they are all the same size. Bake 10-12 mins. I baked about a third of these and froze the rest for a later date and to take a friend.
Thanks to our blogging friends this link is shared on the following blogs.
Print



---