Chicken Bacon Alfredo Pizza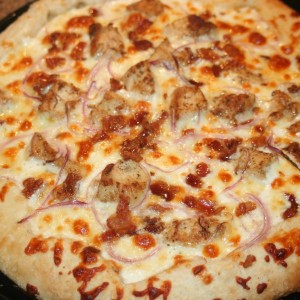 I also used a little butter and garlic powder in the alfredo sauce that isn't shown in picture. And some mozzarella cheese for the pizza.
Instructions
I cooked the bacon and started the alfredo sauce.
Once the bacon was done I poured off all the grease and used the same skillet to cook the chicken.
I used frozen chicken breasts you get in a bag. I seasoned them with house seasoning on both sides.
Once I could cut them up I cut the chicken into bite size pieces and sprinkled with more house seasoning.
Preheat your oven to the temp needed for your crust. I used a Schwans crust.
Spread alfredo sauce on top of crust.
Shred mozzarella cheese and top pizza with it. Add chicken pieces and thin red onion slices. Sprinkle with crumbled bacon.
Bake for length of time listed for pizza crust. Enjoy!!!
We would love for you to follow us on Facebook!
Print



---