In a Pinch Chicken and Potatoes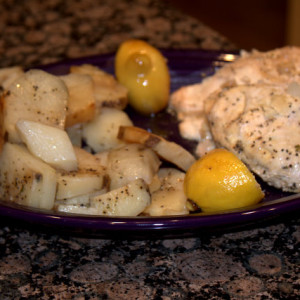 So today there were horrible storms and tornadoes in my neck of the woods. The worse was suppose to hit right at dinner time so I wanted to have something ready in case the power went off so I started this dish and hopped it would be wroth eating. As it turned out it was really good, not the most attractive meal but good.
Prep Time : 15 minutes
Cook Time : 4h 00 min
Instructions
I put the chicken at the bottom of the Slow Cooker  added a good dose of house seasoning the layered sliced onion, diced garlic and the lemon cut in half. On top of all of that I added the potatoes cut pretty thick. Another coating of house seasoning.
I put all of this in the slow cooker and cooked on high for right at 4 hours (you could cook on low for a longer period of time).
The Chicken was SO tender and the potatoes were good and not soggy since they were well above all the juices.
Print



---