Slow Cooker Meatballs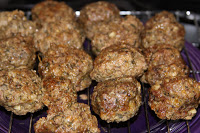 I made some meat balls today and they were pretty good. I think I have tried meatballs once before so I thought I would share.
Prep Time : 15 minutes
Cook Time : 4h 00 min
Instructions
I chopped the spinach, garlic, peppers, then added all other ingredients together in a large bowl.
Mixed with my hands then formed into large balls and put in my large crock pot on high for about 4 hours, and I turned them once.
Then let cool on a cooling rack. I froze half and put the other half in tonight dinner.
Print



---