Sausage and Cheese Waffles (freezes well)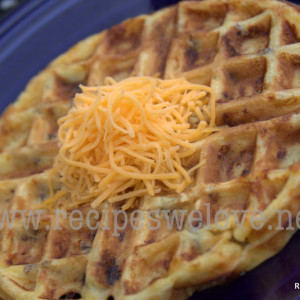 I found the idea for this recipe in a magazine, Rachel Ray, I believe but she had the recipe for the waffles and added several other things. I used the waffle mix I already had. Added the other ingredients, taking somethings out and adding others.
These are great to freeze and to grab and go on the run. I know mornings are HARD to get kids to day care, school, etc. so just stick these in the oven to warm and take them in the car if you have to.
For One batch (but I always make extra to freeze).
Instructions
Mix all together and spoon batter onto preheated waffle iron.
Print



---