Favorite Scrambled Eggs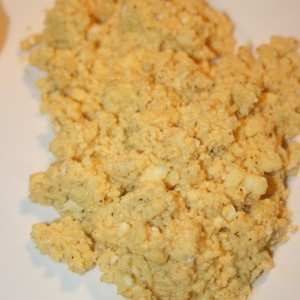 I know that scrambled eggs are something simple but to be honest I didn't know how to make them when I got married! I knew you added milk and had never heard of adding cheese but this is the way my hubby and his family like them. The ingredients listed is what I make for two people and we had leftovers. Both the kids are allergic to eggs.
Instructions
Break open eggs and add milk, cheese and some pepper.
Whisk together with a fork or a whisk. I just used a fork.
Put butter in skilled and let melt. Pour in egg mixture and cook over medium heat to desired consistency. Some people like theirs still really moist and other people like to drier. We like ours in between.
I am totally weird and I always like to add ketchup to my eggs! Anyone else put ketchup on eggs??
Print



---