Green Smoothie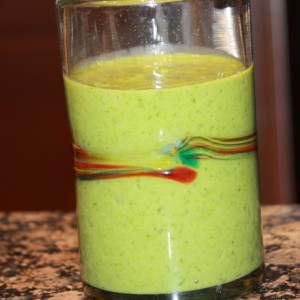 My husband and son drink A LOT of smoothies. I am not the biggest fan of the texture but it is a GREAT way for me to get LOTS of good fruits and veggies into my boys. My son is not the biggest veggie fan and my husband would be just fine if he never ate another fruit or vegetable ever again. So this is VERY important business in my house because I know they are getting the good stuff they need this way.
This GREEN smoothie is my son's favorite to freeze into Popsicles.
You can drink or freeze this green smoothie. My son REALLY likes this one frozen and I REALLY like that he is getting lots of veggies in his cold treat. He even gets these pops for breakfast often.
These Norpro Silicone Ice Pop molds are GREAT for smoothies they freeze really quickly and my son can open and eat them without any help. and they are on sale right now on amazon. These Ring Pop molds are also a favorite at my house. They are super fun and just a little treat, and they work great when the neighbors want a treat too.
Instructions
Put it all in your blender and blend until nice and smooth. And since all of stuff going into this smoothie are warm or just chilled I then add a handful or two of ice cubes and blend again so it is nice and cold.
Thanks to our fellow bloggers this post is linked up with http://www.momnivores-dilemma.com/.
Print



---