Chicken and Pistachio Salad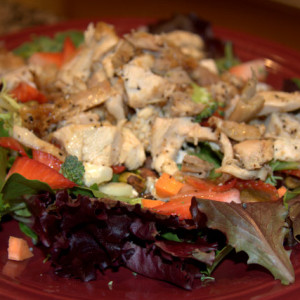 I wish you could see my son's plate, it is a good example of how he eats the same things ( or almost)  as the rest of us even if it looks different. On the green plate he has a little salad (green lettuce only), Slow Cooker Potatoes  ( my husband has them also and Cajun fish). My son also has the same chicken that is on my salad, strawberries, prunes, and Pistachios.
Just a note on why my husbands meal was SO Different, while he normally comes home for lunch I was not expecting him this day and I had this salad for lunch and dinner, but planning on only serving it to him for dinner. BUT he ended up coming home for lunch so I did not think he would enjoy a salad only for two meals in one day, so I threw the potatoes in the slow cooker and pulled a piece of fish out of the freezer for him.
Ingredients
Instructions
Layer everything up and enjoy with your favorite dressing. Below My dinner is the red plate I used a vinegar based dressing, my husband (the blue bowl and purple plate)  and son (green plate) used Ranch Dressing.
Print



---