Parchment Bag Steamed Veggies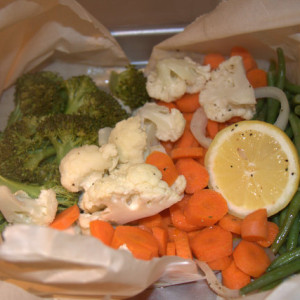 I may NEVER steam veggies on the stove again. I LOVE these parchment paper bags. Nothing is Easier than this and everything keeps its bright colors and is cooked just right. I have two version of steamed veggies to share, and I am sure you will seeing many different varieties in the future.
Prep Time : 15 minutes
Cook Time : 35 minutes
Instructions
This first round is carrot coins, half a lemon, a couple slices of onion, some cut cauliflower, and cut broccoli.  A little House Seasoning (salt, pepper, and garlic), and just a few drops of olive oil.
Just throw it all in the bag, and roll up the end so the air can't get out. I cooked at 375 degrees for 17 mins.
Now on to the second batch. The process is the same just change out a couple things. Here I have sliced cabbage, carrots, and cauliflower. Also house seasoning and half a lemon, but this time I added about 1 tsp of coconut oil. Throw it in bag, close it up and bake for 15 -17 mins at 375 degrees.
We would love for you to follow us on Facebook!
Special thanks to our fellow bloggers who linked up this recipe: Someday Crafts
Print



---