Tri Color Roasted Potatoes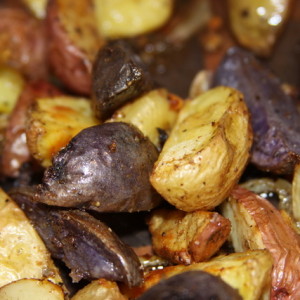 This is another one of those side dishes that is SO GOOD, and so easy. My husband LOVES potatoes so I get tired of making potatoes all the time, so while he is not crazy about my purple potatoes (even though they taste no different) it gives me something other than white potatoes to work with.
So I got this bag of tri colored potatoes at Costco the other day and went to town.
Prep Time : 15 minutes
Cook Time : 30 minutes
Instructions
Simply quarter your potatoes and slice your onion and garlic and throw it all in a baking dish. Drizzle  some olive oil over and a GOOD amount of seasoning, I say as much as your family can handle, the more the better. Then I stir mine up a bit to make sure they are all coated in the oil and spread them back out over you dish into one layer.
Put them in the oven at 375 degrees for about 30 mins.
These are a great addition to about any meal and using the different colored potatoes helps switch things up a bit.
Print



---