Almost Homemade Peach Ice Cream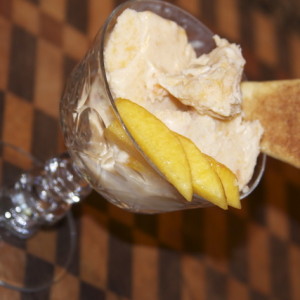 Ok so want a dessert to look like you worked harder on a sweet treat than you really did then, this is for you. I used peach since that is what is in season here but you can use this idea with anything.
Prep Time : 10 minutes
Cook Time : 15 minutes
Instructions
Lay the pie crust out and cut (I used a pizza cutter)  into 16 pieces. Place on greased cooking sheet and sprinkle with cinnamon and sugar.
Bake at 375 degrees for about 15 minutes until just crispy.
Let the ice cream sit out for a few minutes until is becomes soft then add it to a large bowl, with the peaches, vanilla and I added about a Tablespoon of the  cinnamon sugar mixture mix well with a potato masher until it is all mixed well and put it back in the freezer.
When the crust comes out of the oven you have a little cookie to garnish the ice cream. Just add the cookie to the ice cream and add a few fresh peach slices.
This post is linked up with Craft Envy, Be Different Act Normal, Lolly Jane, Nifty Thrifty Things, Kitchen Fun with my 3 sons, 504, Delicate Construction, I should be mopping the floors, Make Ahead Meals for Busy Moms, Flour Me With Love, Summos Sweet Stuff, Craft o Maniac, Keeping it simple Crafts, Singing Three Little Birds, Serendipity and Spice
Print



---