Cedar Plank Brown Sugar Salmon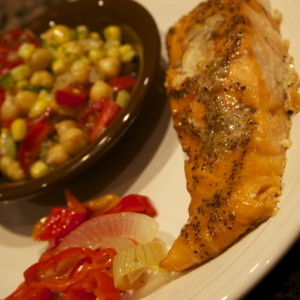 I had never cooked on cedar planks before and have been wanting too so when I saw cedar planks on sale at the store I just could not resist and I am glad I couldn't. I SO ENJOYED THIS MEAL, it was late in the evening so my pictures are not very good but I will try to get better ones next time... because there will be next time soon. I actually got the idea  for this recipe from the package of the cedar planks.
Prep Time : 15 minutes
Cook Time : 20 minutes
Instructions
I soaked the board for about 4 hours in water to keep it from getting too dry and burning on the grill in hopes that I would be able to use it again.
Place your salmon on the cedar plank then Mix the first 7 ingredients in a small bowl,  then coat the top of your salmon.
Put the plank on a hot grill and cook for about 20 minutes with the top closed.
We really enjoyed the grilled favor on the fish which I would never have attempted without the cedar plank. This will be a keeper at my house for sure. Now I just have to get my husband to make me some cedar planks so I am not buying them all the time.
Not the cleanest when it came off the grill but it was super good. And the board cleaned up really easy and will be able to be used another time or two.
I served this with chickpea salad and grilled peppers and onions.
We would love for you to follow us on Facebook!
Thanks to our fellow blogger for linking up with this post. Momnivores Dilemma, Mom on Time out, Yesterday on Tuesday, A Creative Princess, Bear Rabbit Bear, The Artsy Girl, Miz Helen's Country Cottage, Yesterday on Tuesday, Something Swanky
Print



---