Jello Banana Split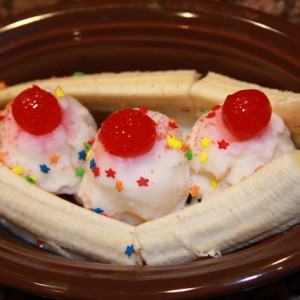 So it is no secret that my 5 year old, likes to be in the kitchen. He has a couple of "Kid food" cookbooks that he pulls out almost daily and tries to talk me into making and "new recipe" the thing is most of these recipes are sweet treats. So long story short one day this is what he came up with in the Kitchen.
Prep Time : 5 minutes
Cook Time : 10 minutes
Instructions
So this is jello before and after we sliced.
Then layer in this order Jello, ice cream, sprinkles and cherries. Then place the banana on either side of the ice cream and ENJOY!
Print



---